15 de Junio 2015
White sand, clear waters, sun and palm trees... a perfect combination por a perfect relax. Guatemala is full of beauties, trust me, Playa Blanca is the place to be and is very diferent because of it's white sand.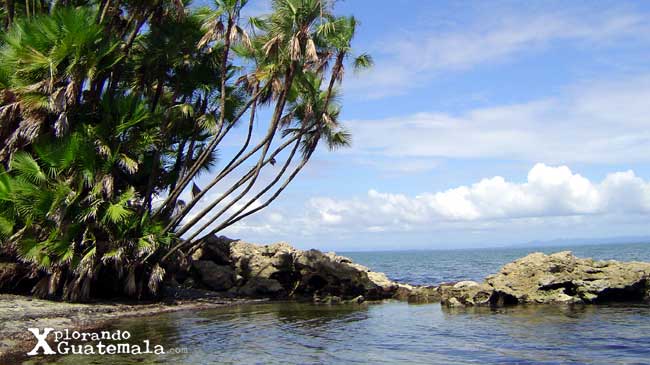 Translation courtesy from Pedro Mejía.

If you have read articles from this web site, I warn you that this is a different one, I see myself forced to be straight:
"get a calendar and make time por traveling to Playa Blanca". Thanks God I have met many places from Guatemala and it is imposible to create a list of the top ten or top 20, I´ve seen incomparable and wonderful landscapes, since I am not a beach and sand guy, Playa Blanca has made me think deeply about it.
If you are reading this in your office, the internet café or you place, I can asure you, once you visit Playa Blanca in Izabal, you'll experience a feeling of guiltness por those days you have spent watching tv at home, there many marvelous places in our country, nothing to envy from places around the world.
Where and how
Playa Blanca is a white sand beach, something different from the rest of places with black sand due to the volcanic nature of Guatemala.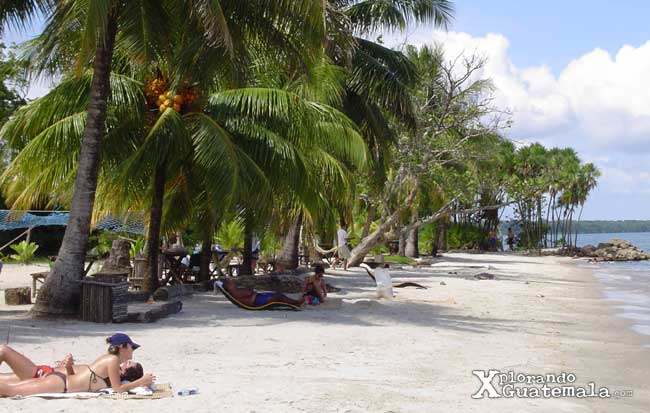 Is it located in Izabal and watching the white sand with the clear water it is amazing. If you are a beach boy or girl, and you like the sun and palm trees and you haven´t been here….you ´re missing it.
To get there you have to take the atlantic road, passing for "el rancho" keep straight until Puerto Barrios Izabal, estimated traveling time to his point from the city 3 hours and half. Once you´re there you have to take a boat, if you travel by bus, you have to walk like ten blocks from the bus station or you can take a cab, if you travel by car, there are places near the dock where you can leave the car, the rates are reasonable.


The estimated time of boat travel is 30 minutes to Livingston where you can find hotels according to your needs, there are places to eat, there is a Bar at the end of the street where you can see the locals dancing "punta" a traditional dance of the place, but there are all kind of music .


To get to playa blanca you have to take another boat, the cost per person is Q90, there is no schedule for this, there must be at least 8 people to go to Playa Blanca or if there are less persons you can arreange the price with the pilot of the boat. Usually this trips last 4-6 hours, in Playa Blanca there are not hotels, restaurants, you have to bring food for lunch and of course….sun blocker. 
Many people could think that this is not Guatemala, but get real, it is... The first reaction from local people when they see the pictures is "where is that?" and when they hear the answer the second one is : "for real???" and the third reaction is: "i want to go there" and of course, we advice you to do it.
If you think that the place is kinda far away... if you depart in the morning, without getting up to early , you'll be there for lunch and there are cheap places to eat... to expensive? If you take a bus, the cost of the ticket is Q40 and the buses are comfortable, I have traveled in one of them. If you bring your car, it will depend on the performance of your car, in our case is was quite good…so instead of thinking for excuses for not going, think how to get there, and if you still don´t know how, see the pictures, something will come, it is worth it.
Bring a friend, or your future girlfriend if she still making her mind up, you will make a good impression. If it is a family trip it is more expensive the it is something the will remember, and course don´t forget your camera.
The richness from the places
Nearby you will find interesting places to vist like "Siete Altares", Cocolí River and Chocón Machacas natural reserve. I really don´t know wich is the best way to persue you to travel and know your country, do it while you can, time goes by and believe me it is worth it. 
This is adviced by someone who has traveled a lot for places mentioned in this website and there are many places left, a lot to travel. 
A weekend without plans? Honestly here there are many asnwers to plan your trips or use the forms in our website for information about the tours. We would like to hear from your travels, we went to explore and now we want to share it with the world. If you like the pictures, there is nothing like being there, cameras cannot capture the total beauty of the places
A picture says more than a thousand words. Find more english travel guides about Guatemala at GuatemalaGuides.com
Explorador
Lee más publicaciones de: Viajes y turismo